Highland values our young members and seeks to help guide them to a life long relationship with God. We offer plenty of fun and enriching opportunities each week for these valuable members of our church family. During worship, we have infant and child care for children up to four years of age. Children participate in our worship services during Children's Time, and our youth and children can also participate through service opportunities and choirs.
We have dedicated programming during our Sunday School hour, and during the school year we offer programs on Wednesday evenings  for all ages  and Sunday evenings for youth.
We are also happy to provide all day care at the Highland Children's Center, a 5-star preschool serving children 6 months to 5 years. The Children's Center also has loving after school care for elementary age children.
Scouting
Highland hosts a variety of children & youth scouting troops, including Boy Scouts, Cub Scouts, and Girl Scouts.
Learn more about our Boy Scout troop here.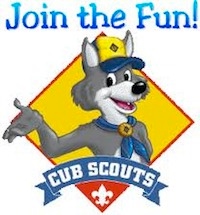 PACK 357 is very excited to welcome Girls & Boys in 1st through 5th grade. The pack has been in continually operation since 1960. Our goal is to provide a safe, welcoming & fun experience for your child while establishing foundations of character that will last a lifetime. 
Currently, the scouts are being led at home by the scouts family. Once conditions allow, then we meet every Tuesday night from 7-8 pm that the Wake County Schools are in session in the traditional calendar. We also have planned greenway cleanups, camp outs, a food drive, pinewood derby and bike rodeos.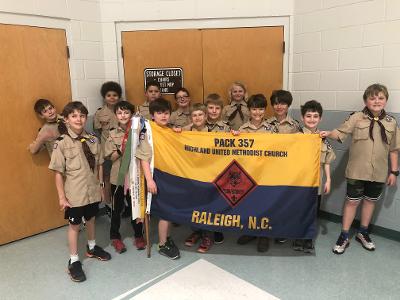 Families should consider this time to be together with their scout a gift, in the past they may not have done. These adventures that the scout completes on their scouting journey can help get them outside into nature, be creative and most importantly have fun. 
Interested? Contact Brian Cole at scoutingpack357@gmail.com or 609-741-0857.
Learn more about our Cub Scout pack here.
Safe Sanctuaries
Highland is a Safe Sanctuaries Church, which means we take seriously the need to make sure all children, youth and vulnerable adults are safe when in our care or participating in our programs.
This means that all staff and volunteers have:
successfully completed a background check
received training on safety procedures and the church's policies formulated to protect children and youth while in our care
agreed to follow Highland's Safe Sanctuary Policy
If you have questions or concerns about Highland UMC's Safe Sanctuary Policy, if you would like to read the full policy, or have a concern about safety at Highland, please contact Amy Takahashi, Director of Children's Ministries.