Highland has a wonderful, vibrant music ministry with opportunities for all ages to make a joyful noise to the Lord with voices and instruments.
Highland Choir
Highland Choir provides music each week for the 11:00 service and alternating weeks at the 8:30 service, performing a variety of styles ranging from spirituals to classical masterworks, sometimes with guest orchestral musicians.  This all-ages choir rehearses Thursday evenings 7:30 - 9 PM, with a lighter schedule in the summers.  Contact Choir Director Jo Anne Swartz to join them.
Connection Praise Band
Our Praise Band leads music at our 10:30 AM contemporary service, The Connection, in Bradley Hall.  They rehearse at 7:15 PM on Wednesdays in Bradley Hall year-round.  Interested singers or instrumentalists should contact band leader Paul Reece.
Voice Classes
Voice classes are offered to anyone on Wednesday mornings at 10 AM, as a ministry to Highland UMC and to our neighbors! Singers from other church choirs are welcome to join us; there is no fee for the lessons. Techniques included in the sessions are breathing, resonance, voice placement, flexibility, navigating between the registers, diction, posture and musicality (expressive singing). Every session opens with exercises to gently stretch the upper and lower limits of each person's vocal range. We also have a lot of fun, singing music from many different styles, from show tunes and Frank Sinatra hits to Bach! Classes are taught by Jo Anne Swartz, Highland's choir director. All materials are provided. We've saved you a seat - come join us!
Children's Choirs
Highland's Children's Choirs have exciting plans for the fall choir season! Younger elementary children are learning about music reading and working with rhythm patterns on a variety of instruments. Older elementary (Chorister Choir) children are learning to play the ukelele with help from members of the Highland UMYF.
Children ages 3 through 5th grade who enjoy singing, playing musical instruments, fellowship with others their age, and providing a music ministry to others may join us for weekly rehearsals in the choir room.   Children do not need to be a member of the church to participate.  All rehearsals are on Wednesdays from September until May.   Contact our children's choir director, Jo Anne Swartz for more information.
Cherub Choir
Ages 3 - K - Choir Room
4:00-4:30 PM
Chorister Choir
Grades 1 - 5 - Choir Room
5:15-5:45 PM
HUMRingers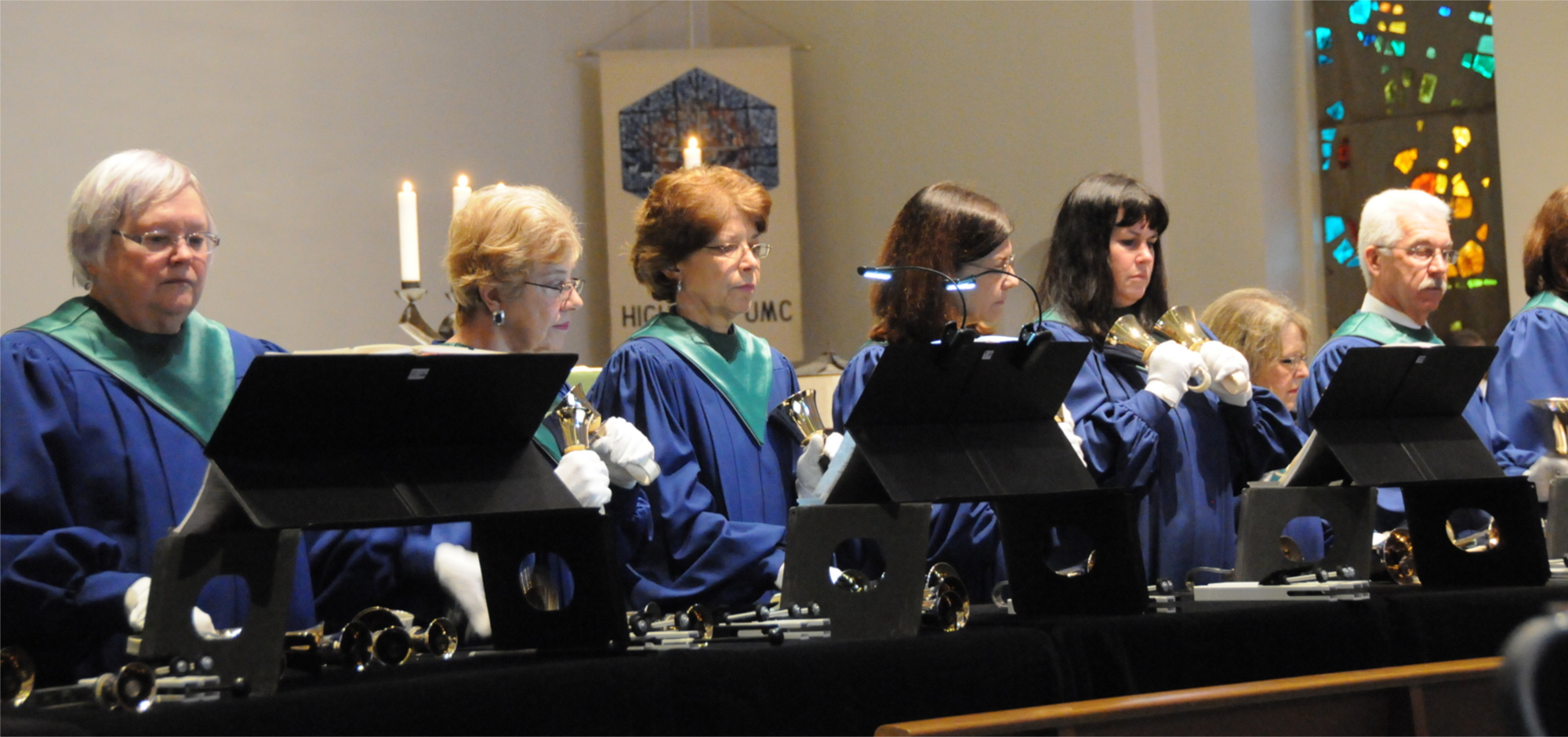 With our HUMRingers handbell choir, experienced adult and senior-high youth ring once each month in worship services during the school year, typically at the 11:00 service.  This choir also plays at handbell festivals, community events, and an annual Christmas concert at the NC Correctional Institute for Women.  They also provide worship music for small churches without a handbell program once each year in the spring.  They utilize five octaves of Malmark handbells and five octaves of Malmark handchimes.  Rehearsals are Wednesday evenings from 6:30 to 7:45 PM in the Handbell Room on the second floor above Bradley Hall.  Anyone interested in joining handbells should contact director Kevin Quick.
Highland Winds
For youth and adults, this ensemble combines brass, woodwinds, and strings and provides instrumental music approximately five times a year, sometimes accompanying singing groups. The group rehearses on Sundays at 12:15 PM in the sanctuary.  Contact director Jo Anne Swartz to participate.