More pictures and videos will be loaded soon.
We raised A TON…Literally
2,169 pounds of food…and still counting
Our money donations total is not complete yet, but stay tuned for that.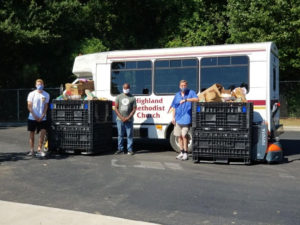 HSP: Community Impact was a huge success! The HSP: Community Impact Portal will be updated with videos and pictures of our youth and leaders doing service throughout the week.
Adult Leaders: Jo Anne Swartz, Angie Martin, Kendall Myers, Christine Taylor, Scott Loftin, David Hood, Chuck Stuber, and Barry Rodgers
Please thank them for their involvement and leadership! Every Work Team Leader did outstanding work and we are very grateful for the dedication to service.
The Youth did SO much work during the HSP: Community Impact week. Working around their own house, neighborhood, family's homes, and so much more. Efforts for the food drive outreach, building birdhouses, and all supplemental work has made a difference and will continue to impact the community. Please thank the youth for their amazing service for all the projects and food drive outreach done for HSP: Community Impact.
HSP: Community Impact could not have been a success or even happened without Adam Mottershead and Sarah Wallace. Please thank them so much for their roles in HSP: Community Impact!
And most importantly, thank you to all who helped in preparation, during the week, donated in any way, and played any role in these Youth's lives. We are so thankful for the service done by Highland and our community. We turned a very negative situation in our world and made a huge impact in our community

Click the Button below to see  Morning Devotionals and Evening Services!
HSP: Community Impact Devotionals, Services, and more
Online Donations for HSP: Community Impact Food drive
Follow the link and donate if you are able. Select Highland Service Project as the fund. Write in the memo "HSP Food Drive".
Online Donations for HSP Food Drive