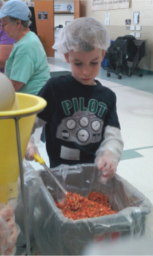 Backpack Buddies:  Every Second Wednesday, Sept.-May.   It's all hands on deck  as we pack 60 bags of easy to prepare/ready-to-eat foods for food insecure children in Wake County.  We start as soon as we finish supper on  the second Wednesday and pack until we're done.
Family Promise:  Four times a year Highland hosts guests with Family Promise.  We need volunteers to set-up, feed, drive, etc.  We also need folks to just come and hang-out with the guests and play games with the children.  You can sign-up to help with our next Family Promise Week (November 17-24) here.  
Pride for Parents:  The Pride for Parents Christmas Store provides low-income families with the opportunity to select and purchase gifts for their children at greatly reduced prices—preserving the parents' dignity in the process.  Wake County will host five store locations for 2019.  You can learn more about Pride for Parents and volunteer to help at one of the stores here.
We will be collecting new and nearly new toys and children's clothing for the downtown location of Pride for Parents.  You can drop off items at Highland between November 30 and December 10 in the narthex or Bradley Hall.
Care and Share Breakfast After Dark  Highland has a long tradition of taking care of our homebound members and remembering them with a special gift at Christmas.  A change in our Sunday morning schedule means that we can no longer hold our "Care and Share Breakfast" between services on a Sunday morning—so we're moving it to a Wednesay night.  Who doesn't love "breakfast for supper?"    Join us for dinner on Wednesday, Dec. 4 as we enjoy our favorite breakfast foods and prepare gift baskets for our shut-ins.   Please bring fruit and other goodies to add to our baskets.   You can make a dinner reservation here.