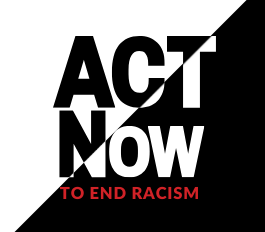 Highland seeks to embrace our baptismal vow to resist evil, injustice, and oppression in whatever forms they present themselves. The evils of systemic racism in America have been a major topic of conversation over the past several weeks, and people are more interested than ever in bringing about real change – in themselves and in the world around us. As a predominantly white church, we are seeking to be faithful allies to our brothers and sisters of color. Again and again, a repeated request is that we would educate ourselves and do the necessary work to begin unpacking our own assumptions and biases. Bringing change in our world begins by seeking change in ourselves.
To that end, Highland is invited to participate this summer in A.C.T. Now to End Racism, a program designed to help us all grow in anti-racism. A.C.T. is short for Awaken, Confront, and Transform, the words that will surely accompany our work as we open our eyes and hearts to how racism has shaped so much of our world around us and how we view others in our communities. We are indebted to the National Council of Churches for the title, but this program has been shaped specifically for Highland and our extended community.
ACT Now Discussion Groups
Anti-racism work takes time, effort, and partners along the journey. Small groups that can foster open, honest discussion are ideally equipped to do such work. 
Meeting for six weeks (at least):

Groups will commit to gather for conversation weekly for six weeks, hopefully beginning by early July. At the end of that time, some people may wish to continue for an additional six weeks; others may decline for any reason. Summer is often a difficult time for regular meetings, but many people are anticipating a very different summer than normal. If you are mostly available, this could be a great opportunity. Most folks could miss one gathering and still greatly benefit from participating.

Participate from home:

This will probably be done electronically, though some may explore safe ways to gather in person. 

We'll help guide the discussions:

Each group will have an outline of suggested material for those conversations, though groups can adjust and decide for themselves what they use. These groups won't necessarily be reading a book together, but they may be reading articles, watching short videos, or similar less time-intensive activities to help prompt discussions. We encourage groups to agree to a covenant for their time together. An example covenant will be provided. 

Groups have facilitators:

Each group will have a facilitator to help guide conversations. Facilitators are not experts and won't have all the answers, but are committed to learning and walking this journey with their group. 

Sign-up TODAY:

Anyone interested in participating in such a group is encouraged to register (click the button below). Once we've got an idea of how many people will be participating, we'll form groups and then those groups will finalize meeting days & times.
Sign-up for a Discussion Group
ACT Now Book Club
Read the book on your own; join together via Zoom for a time of discussion on the 3rd Monday of the coming months. Register to receive the Zoom link.
Monday, July 20, 7 PM – White Fragility by Robin DiAngelo
Monday, August 17, 7 PM – I'm Still Here by Austin Channing Brown
Monday, September 21, 7 PM – So You Want to Talk About Race by Ijeoma Oluo
Register for a Book Club Discussion
ACT Now Presentations & Discussion
Social Justice Forum – "A Recovering Racist" with special guest the Rev Dr. Will Willimon
Join us via Zoom on Tuesday, July 21, at 7 PM to hear reflections on being "A Recovering Racist" from one of Methodism's foremost preachers and teachers. A retired United Methodist bishop, prolific writer and dynamic speaker, Willimon currently serves as Professor of the Practice of Christian Ministry at Duke Divinity School. Willimon shall reflect on his own journey from being raised in a legally racially segregated society to his own efforts to speak out and speak up about how the Christian faith relates to issues of racism.
Register for Social Justice Forum
Martin Luther King Jr.'s Letter from a Birmingham Jail, hosted by Dr. Linda Edwards
Wednesday, August 5, 7 PM
ACT Now Work on Your Own
Not available for small group discussions? Can't make it to a book club discussion? These resources are particularly suited for an individual who still wants to do this important work on their own:
How to Be an Anti-Racist by Ibram X. Kendi
Blindspot: Hidden Biases of Good People by M. R. Banaji & A. G. Greenwald
ACT Now for Families – Planting Justice Summer Storytime
Stories and picture books can be one of the best ways for children (and adults) to encounter, grapple with, and make sense of difficult issues. Our Planting Justice Summer Storytime will feature children's books that help us learn about the issues of race, equality, and loving our neighbors.  We will meet on the Portico at 10:00 on Thursday mornings beginning June 18.  Bring a beach towel or blanket for your family then listen, think, share and learn.
Wednesday Youth on Zoom            Sunday Youth on Zoom
Additional Anti-Racism Resources:
Videos
Articles
Movies
 TV Shows
Podcasts